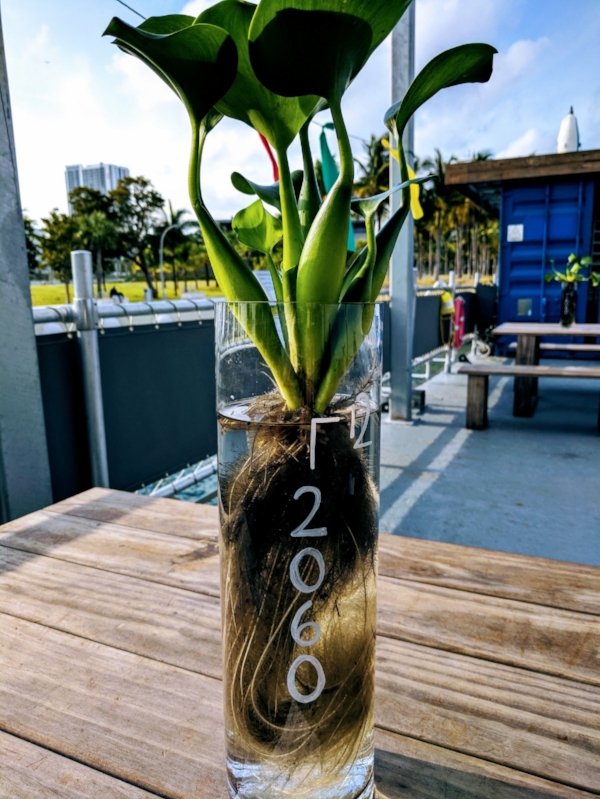 Salon Juste is a bi-monthly series of evening discussions hosted by Community Justice Project. Inspired by the salons of the Harlem Renaissance, we are creating spaces for robust exchanges to spur the creativity that emerges from increased connectivity and understanding across different backgrounds. Each salon will touch on timely topics, centered around the stories of incredible Miami community leaders whose expertise and talents arise from their lived experiences as people directly impacted by social injustice. Owing to the popularity of the first iteration of the series sponsored by the Knight Foundation, we have elected to continue Salon Juste with the generous support of the Kenan Charitable Trust.
SIGN UP TO STAY INFORMED ABOUT FUTURE SALONS
JOIN US ON TUES. MAR. 27TH!
Salon Juste is back in action with another hot topic this month: safety in schools. Join Community Justice Project alongside Dream Defenders, Power U Center for Social Change and S.O.U.L. Sisters for a discussion on what schools safety means in light of the recently passed legislation to arm teachers and put more police in schools. Youth leaders, advocates, & poet guests from Voices: Poetry for the People will reflect on the question of what safety means before inviting participants to consider the question together over snacks and drinks.
Tuesday, March 27, 2018
5:30-7:30pm
Space Called Tribe
937 NW 3rd Ave, Miami, FL
RSVP here: salonjuste.splashthat.com
On Monday, November 6, 2017, we held our last Salon Juste of the series at Charcoal Garden Bar and Grill (at Wynwood Yard). We paired up with the Florida Immigration Coalition to host On Status: Factors that Shape the Migrant Experience. Carolina Rosario of Univision News and Primer Impacto moderated our anchoring panel with the young Christina Ponthieux and Christa Tawil. This salon explored the different factors and political subtexts that shape the immigrant experience. Though all immigrants experience what it's like to leave their homelands, their intersecting identities and circumstances for coming to the U.S. impact how they are seen and what status they get upon coming to the U.S. Participants shared their diverse experiences while enjoying delicious food and drink in a gorgeous setting designed by Heidi Lellelid.
Our Salon Juste No. 5: On Art + Gentrification at The LAB Miami on July 12, 2017 brought out Miami folks in numbers to listen and ruminate (graphically) on community and the forces behind gentrification. Before we dug deeper with fellow participants, journalist Carl Juste led a spirited conversation with Marleine Bastien of FANM and Dr. Alfredo Garcia, who touched on everything from global art markets to affordable housing and the future of Little Haiti. We ate well and drank merrily, thanks to Zaytouna, a new Syrian women's catering collective being coordinated by Christa Tawil, and Box Elder, which selected some tasty brews for us to enjoy.
See more photos in the gallery below.
For more information on Zaytouna, call Christa at 1 (305) 204-5474.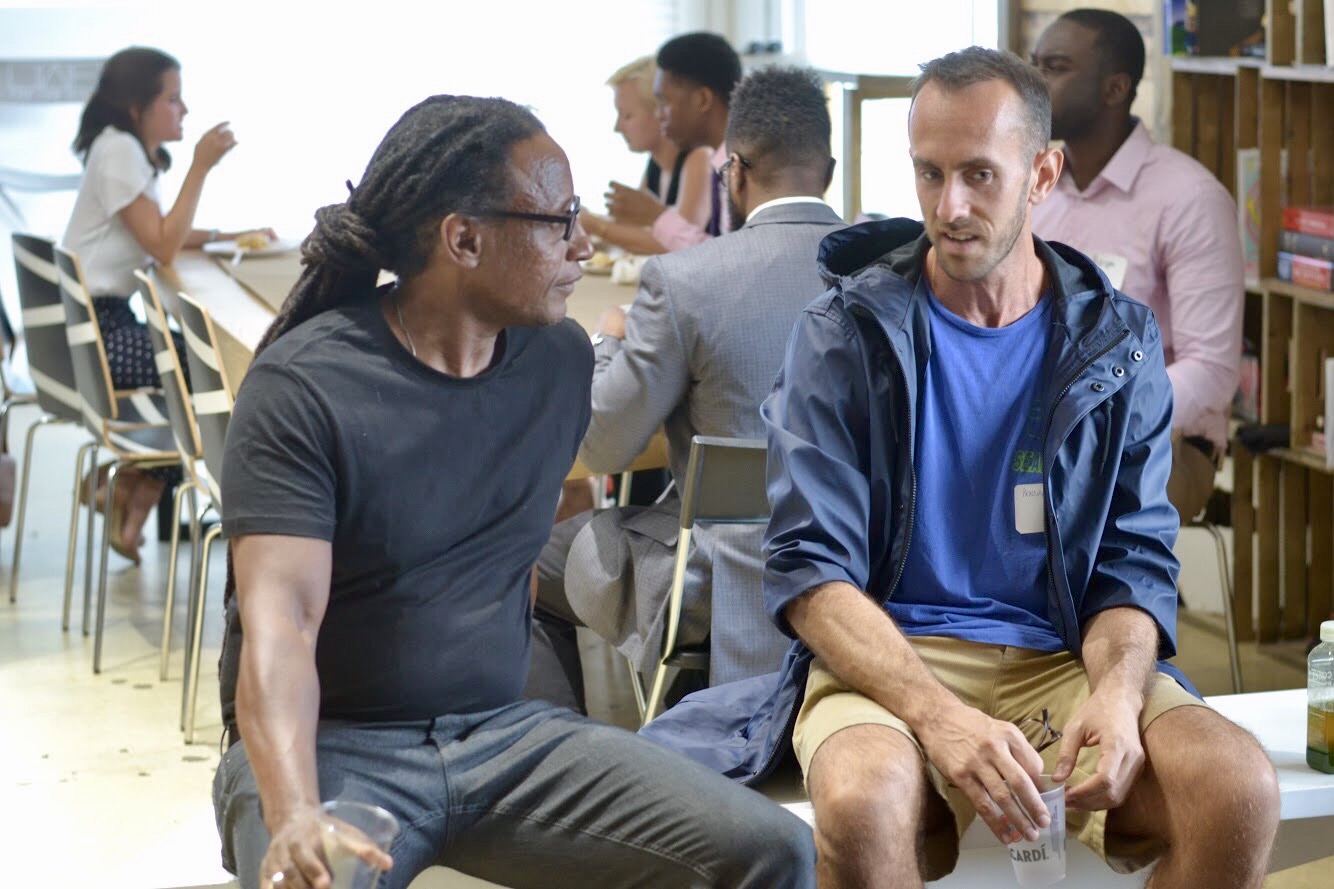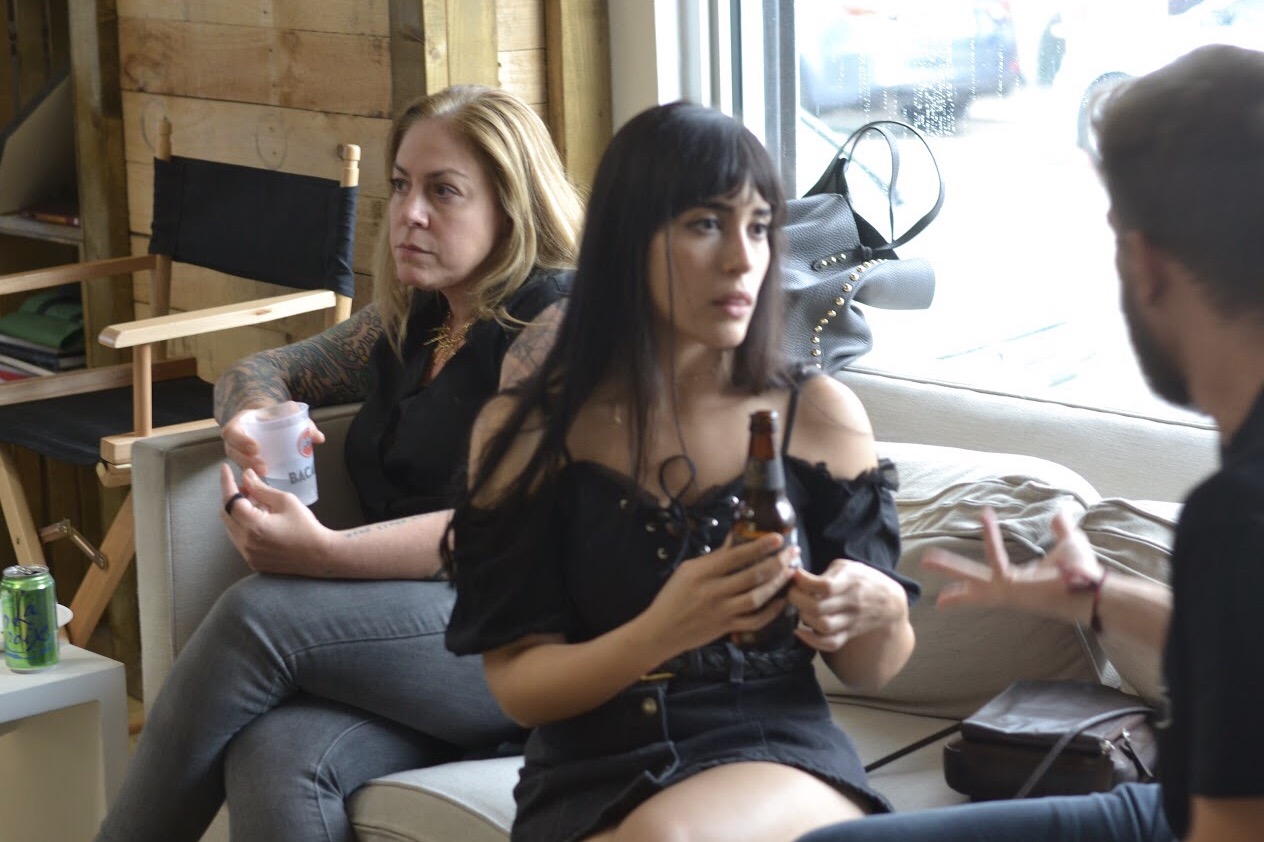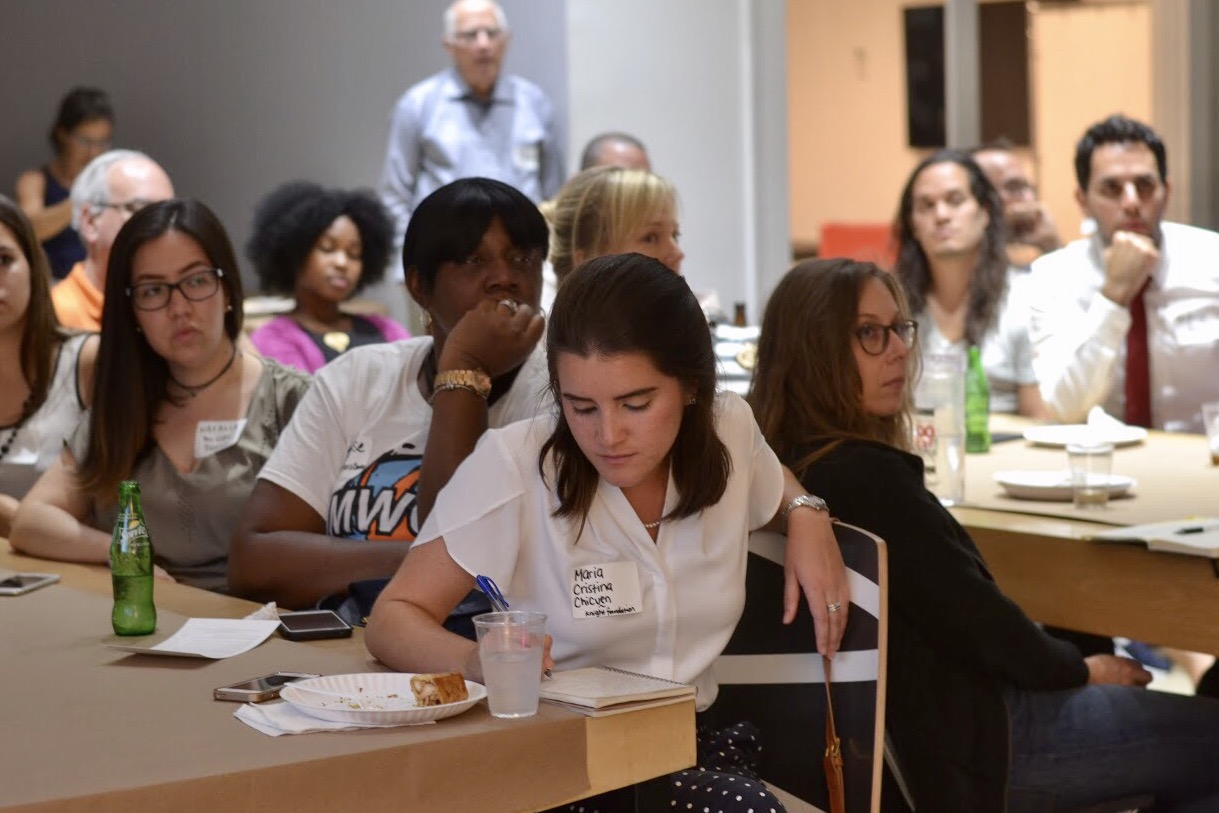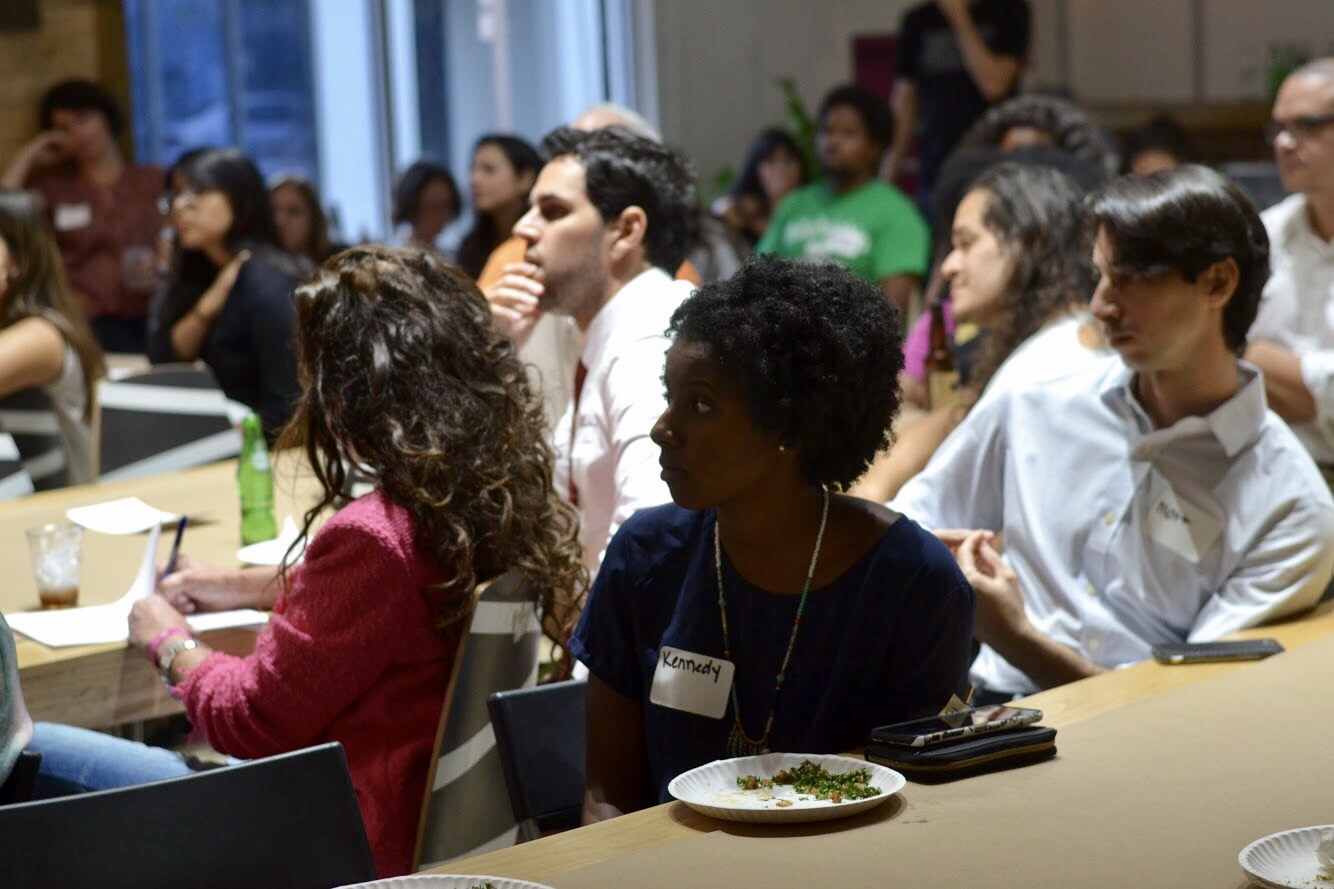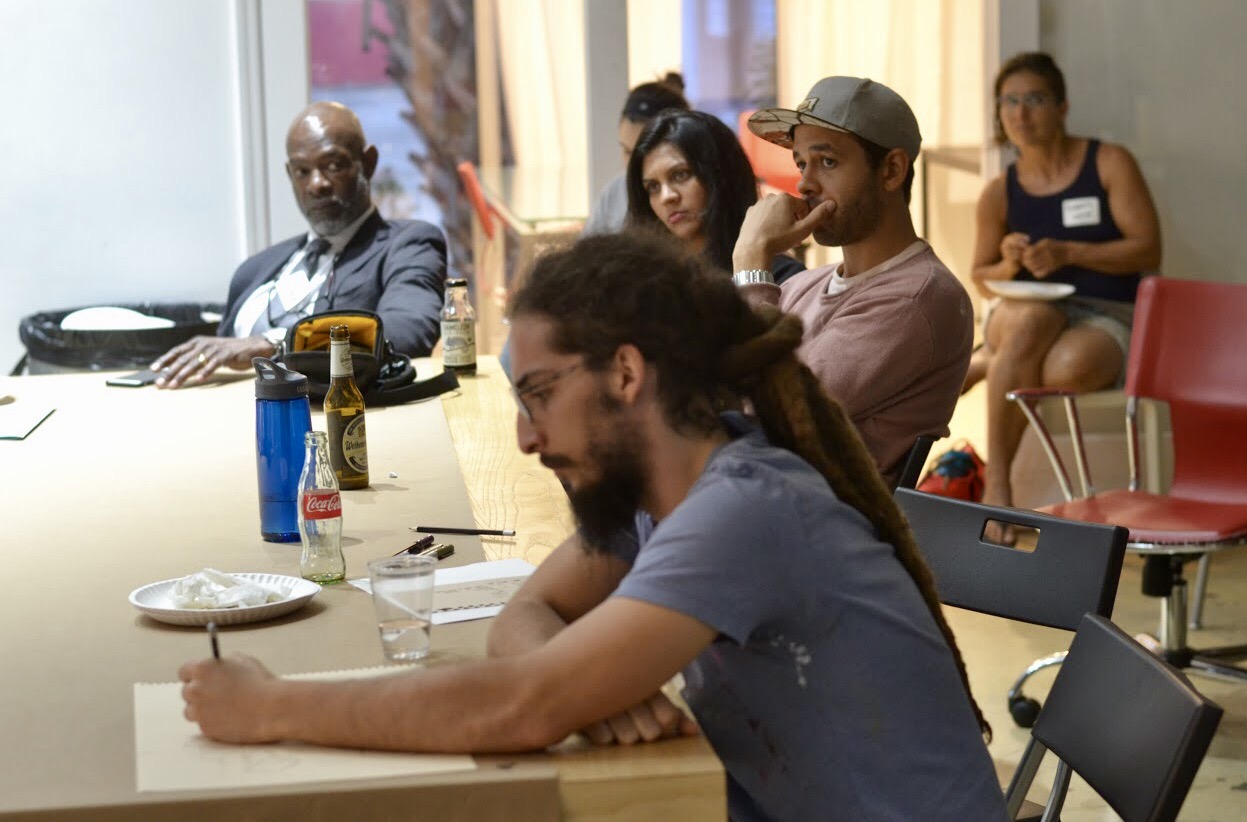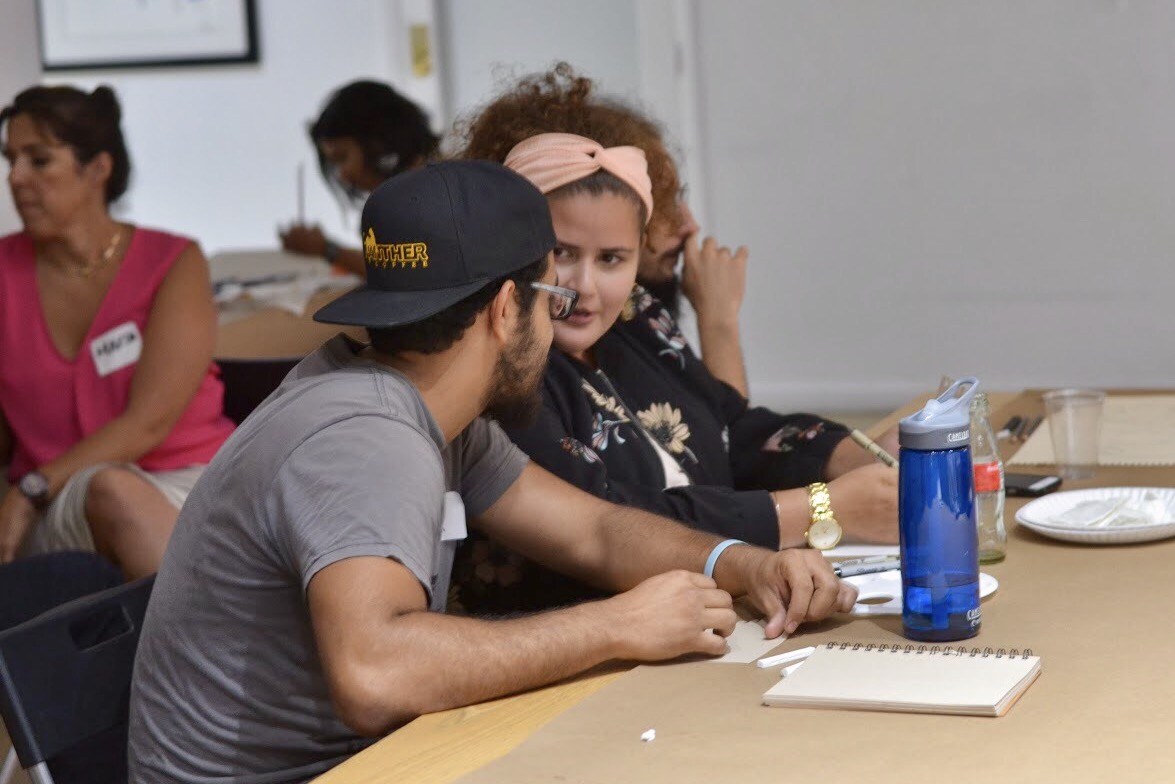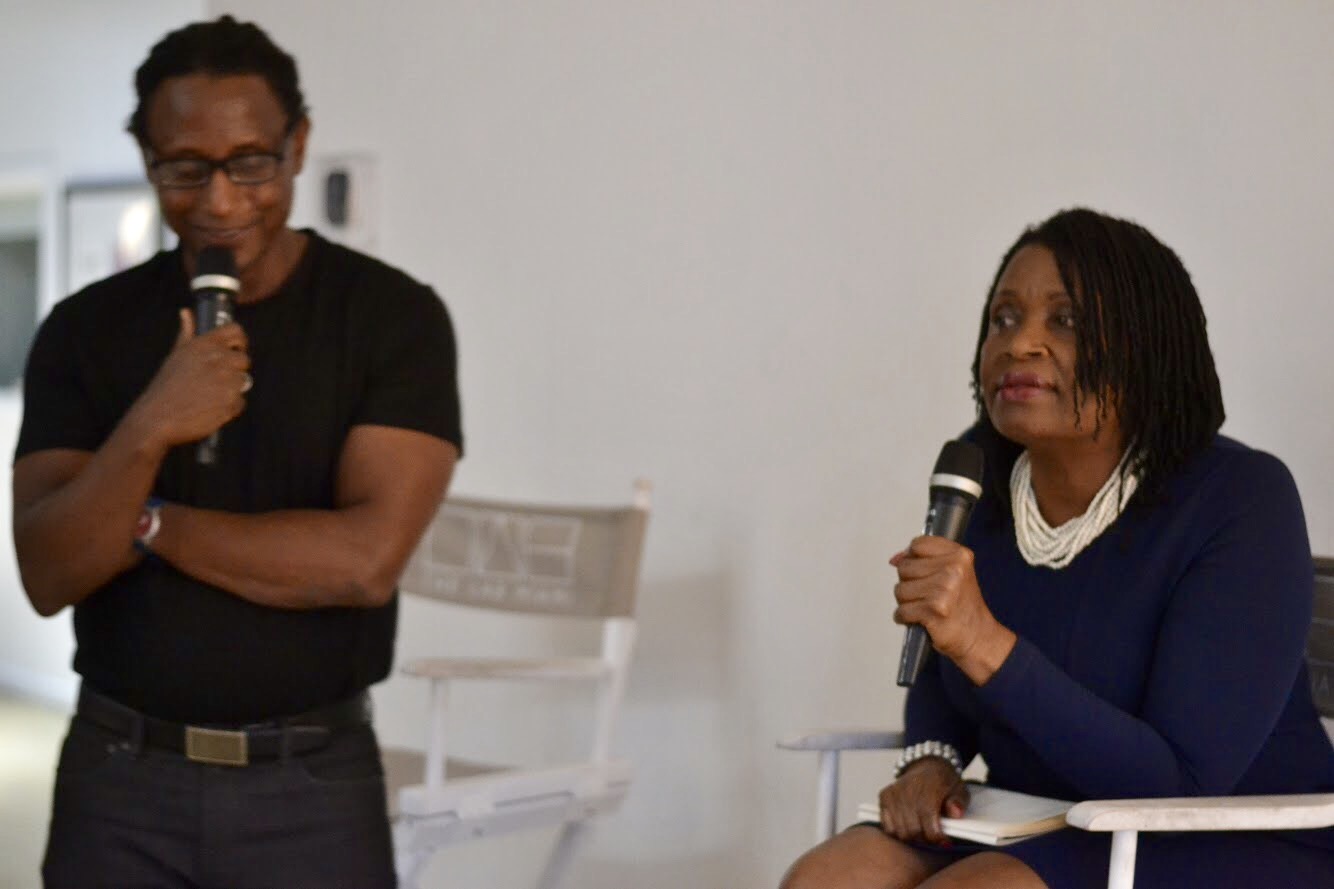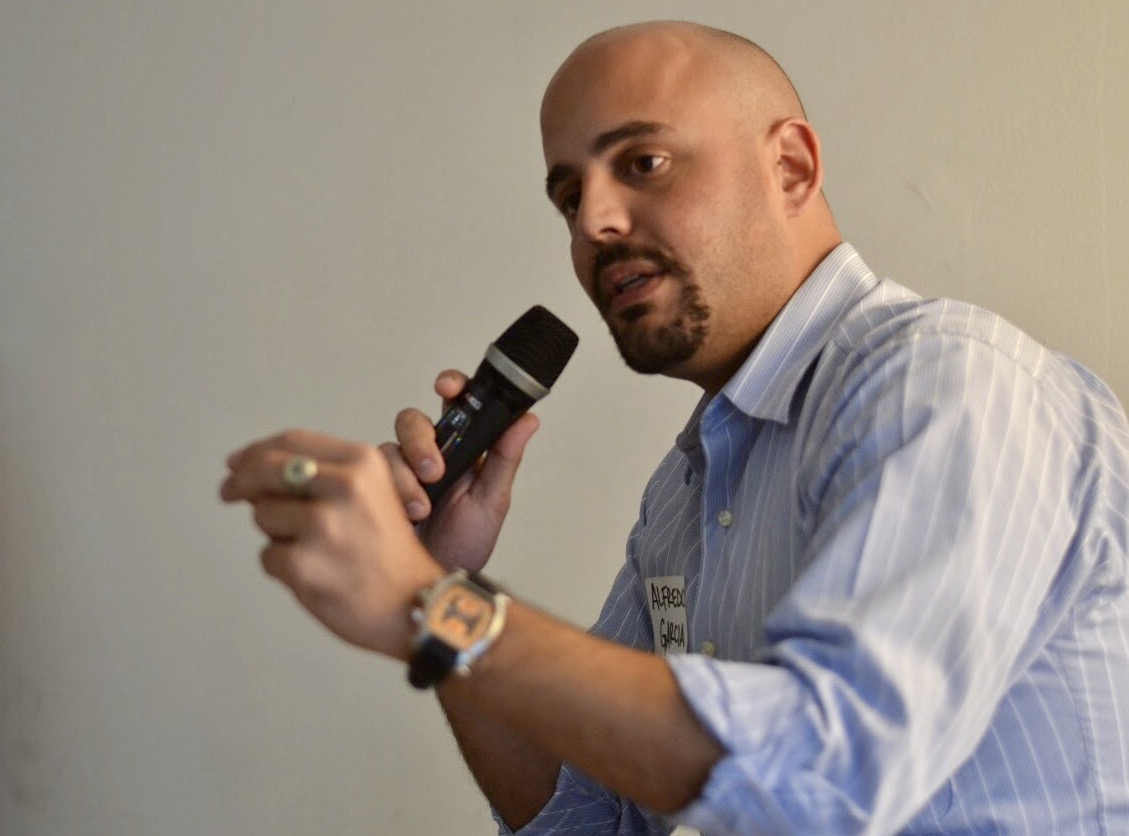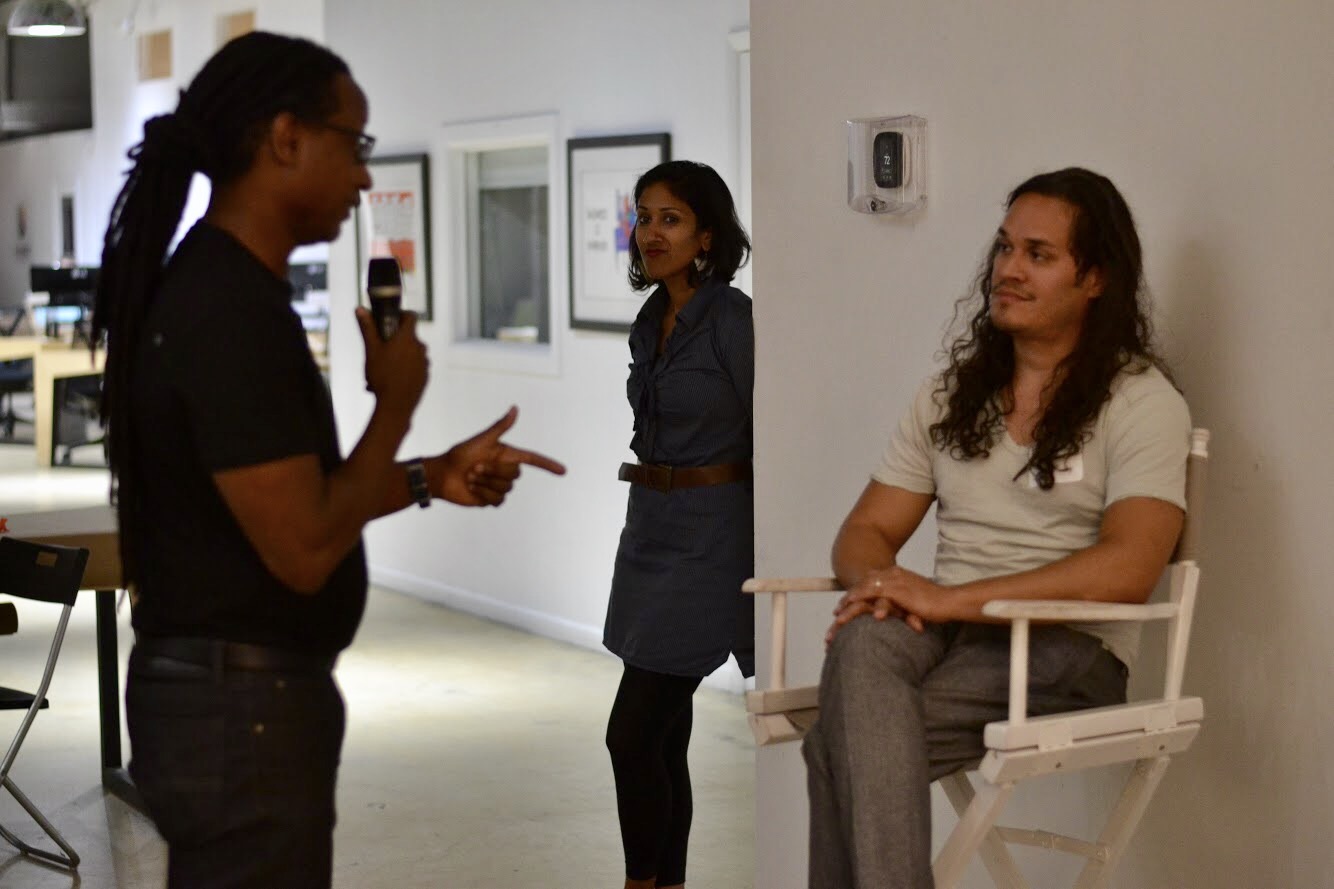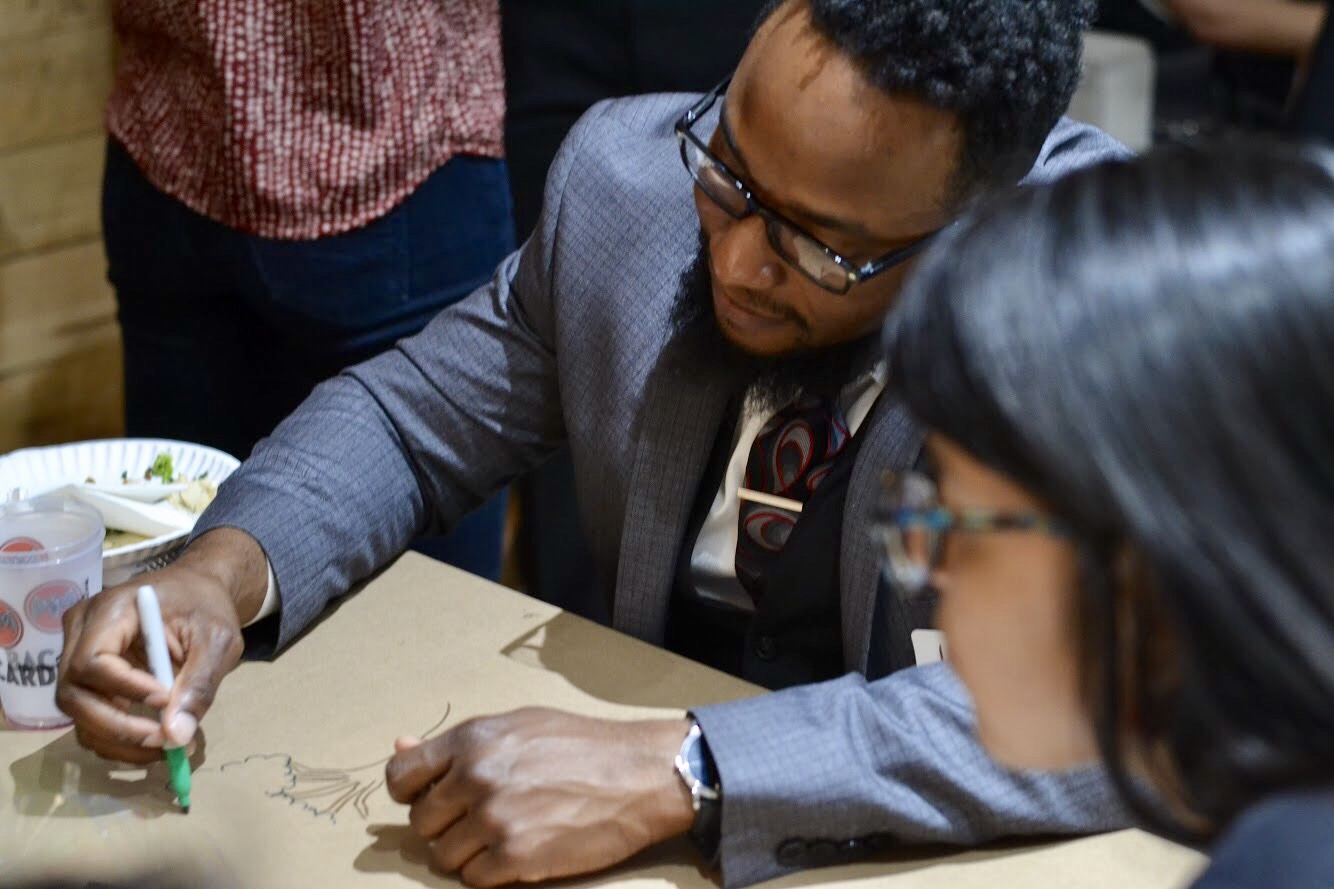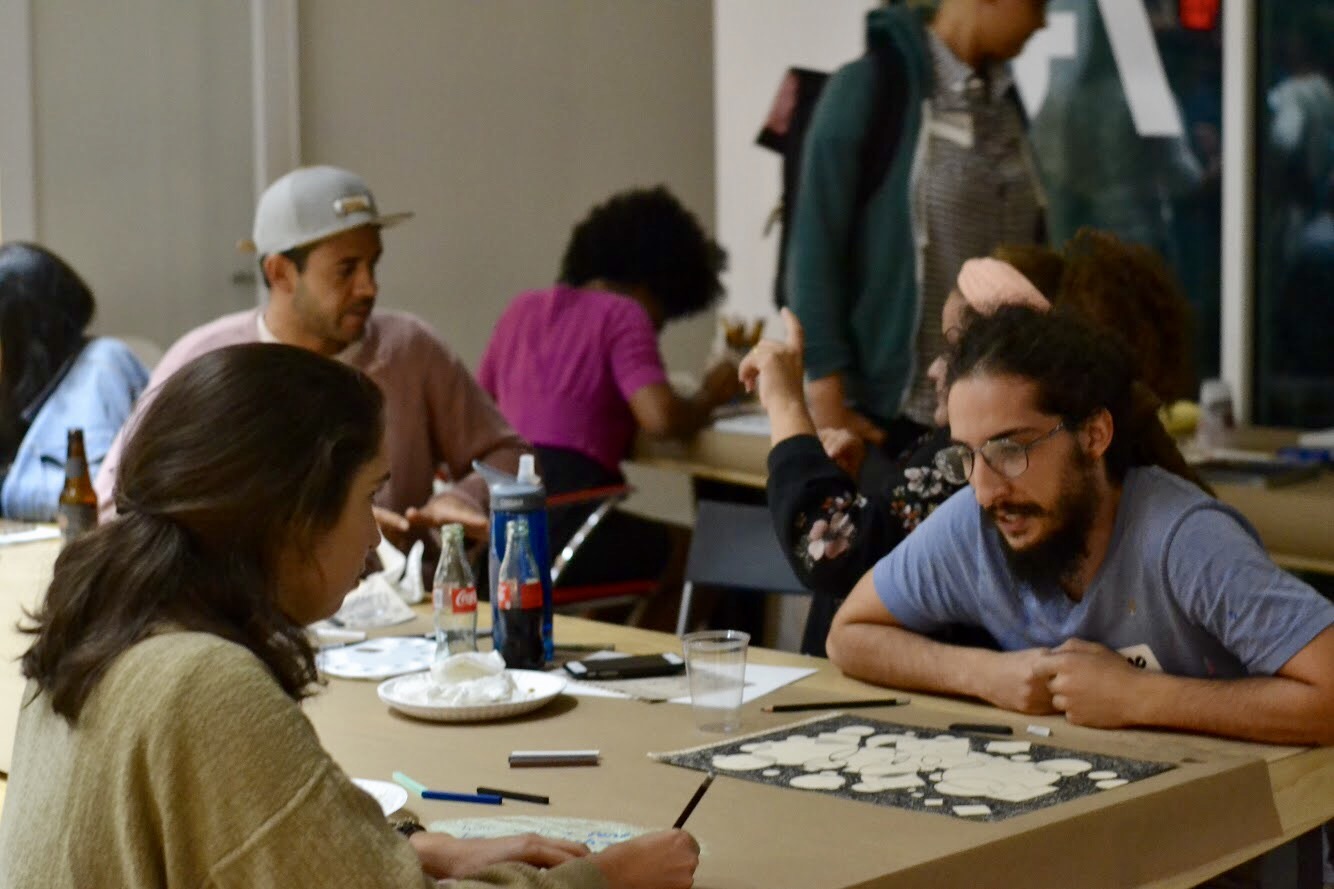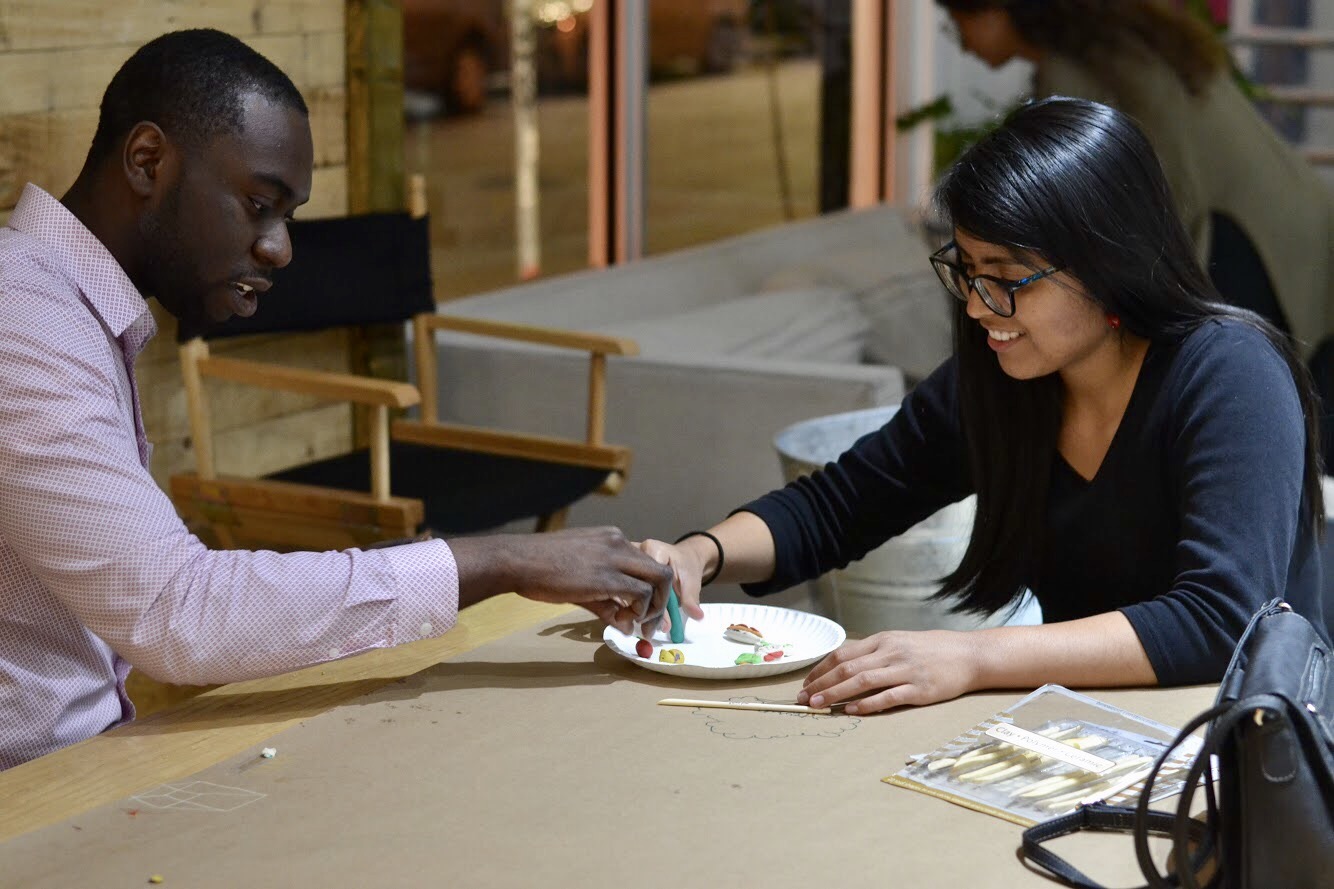 Salon Juste No. 1 "On Mobilizing, Against the Odds" took place on September 28, 2016 at The Anderson. It featured an interview with community leader Anthony Butler, a New Florida Majority organizer from Miami Gardens who has been mobilizing hundreds of people in his community to vote and participate in efforts to better their neighborhood.
Salon Juste No. 2 "On Getting Around: A Conversation on Taxi Drivers, Uber and the Consumer in Between" was held at Venture Cafe on December 8, 2016. It centered the perspectives of drivers Niel Homy and Wallex Dumesle of New Vision Drivers Association in a discussion moderated by The New Tropic's Roshan Nebhrajani on the challenges and questions for drivers and consumers as the face of transportation is rapidly transformed by technological innovation. More on that salon on our taxi drivers page here.
On the heels of the historic Women's March, we held Salon Juste No. 3: On Women and Work on Thursday, February 16, 2017 at Soya e Pomodoro in downtown Miami. We anchored our reflections with a discussion on women and work with the story of domestic workers, a cross-section of workers who are overwhelmingly women and particularly vulnerable to workplace abuse. The conversation between June Barrett and Carla Hansack, two local powerhouse domestic workers and leaders of the Miami Workers Center, and incredible lawyer/advocate Adele Valencia was moderated by Kathie Klarreich. The setting was beautifully created by our designer Heidi Lellelid, with paintings made specially for the occasion by art students from Miami-Dade College.
We held our fourth salon, Salon Juste No. 4 - On Land: Climate Change and Environmental Justice in Miami, as the sun set over the bay on the Miami Science Barge. The CLEO Institute's Caroline Lewis moderated a lively conversation with local activists/advocates Michael Clarkson, Valencia Gunder & Ajani Stewart of the City of Miami Office of Resiliency who discussed the challenges facing Miami but also lifted up the ways in which people are trying to address them. People reflected on their own practices and conversed in groups gathered around big tables about what is currently happening in Miami and how they can help. Our designer Heidi Lellelid used vases of different heights and sizes to illustrate the number of inches the sea level is set to rise in a given year, and invited people to write their hopes and commitments on strips of fabric that were hung on line along the Barge. It was beautiful. Special thanks to Zak the Baker for delicious bread and pastries that we all enjoyed so much!